Congratulations to our 5 winners: Michelle, Sara, Julia, Martin and Janice.
---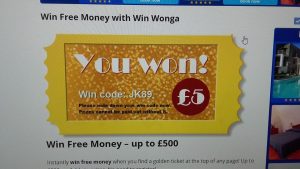 As some of you may know, somehow yesterday's golden ticket was missed – it showed up at 9pm but wasn't claimed! We're not sure how this happened, the ticket is definitely hard to miss (see our £5 winner Sara's screenshot of her ticket). I've also added an admin screenshot to prove it was shown.

The good news is we're going to give away the £50 as 5 separate £10 prizes in a Prizeathon!
The Prizeathon will be tomorrow 13th March between 10am and 10pm. For a chance to win, all you need to is find a limited edition £10 golden ticket at the top of THIS page during those times. Simple as that!
Good luck!